Description
The Complete English Course! – 3 levels
Watch the above video to find out how the Complete English Course can help you quickly improve your English level!
Do you feel that you've been at the same English level for the past few years? Have you tried lots of different learning programs without much success?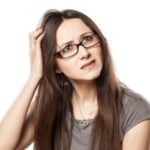 A lot of students feel the same. It's like you can't seem to make any real progress. This then leads to problems of motivation.
The thing is, a lot of language courses don't cover the things you need so you can improve your English level. They might help you with grammar or vocabulary or listening, but not everything at the same time.
What you need is a course that will allow you to improve all areas of your English so you can make real progress and improve your English level – to go from being a low-level student to a mid-level one. A course that you can complete as quickly as you want and with opportunities to practise everything you've learnt.
Above all, you need an English study plan to improve your English level quickly so you can achieve your objective of having a high level of English. The only way to do this is with excellent English learning materials, and experts to guide you to your new destination!
Well, guess what! We've got just what you're looking for!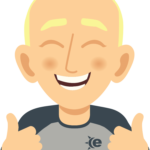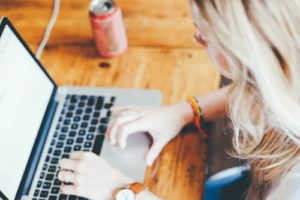 Our 3 level, Complete English Course will ensure you…
…make real progress!

…improve all areas of English at the same time!

…Improve your English level!
"I was looking for a course to increase my English level, and I found it with this one. Best of all, I feel like I'm improving all of my English – speaking, writing, pronunciation… I really recommend it."
Kateryna, from Kiev
Our Complete English course has 3 different levels and covers everything you need to improve your English level. If you have a low English level now, we'll help you become a mid-level student with our course; and if you're a mid level student, ou'll quickly become a high-level one!
Plus, you can study wherever and whenever you want! No more travelling to an academy! All you need is an internet connection.

Go as fast as you want! There's nothing to stop you achieving your goals!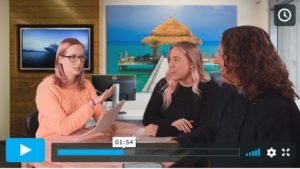 Each level will improve your Speaking, Pronunciation, Listening, Reading, Vocabulary and Writing – guaranteed!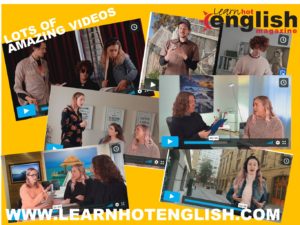 And you'll progress quickly and easily so can speak fluently and naturally!
I wasn't sure what to expect with this course as I haven't done any video classes before, but it was great. I could study the online lessons from home, and then have the video classes from home too with a great teacher. That was really good!"
Ariana, from Florence
See a sample Lesson from the Low-Level!
See a sample Lesson from the Mid-Level!
See a sample Lesson from the High-Level!
Start by taking our free online English test to help you find your level.
ALSO you can include a 1 hour class online after every 2 units with one of our  native English teachers to specifically practice everything that you have studied.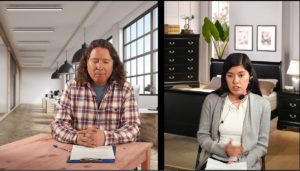 How does it work? When you have completed 2 units you have a 1-hour class online with a native English teacher to go over everything you have learnt. Include a  60-minute ZOOM Video-Phone call class with a native English teacher after every 2 units. That's 7 * 60-minute classes (7 hours in total) per level for just €99 more, 
What are the advantages of taking the zoom native English option? Well, it allows you to practice what you have learnt, and ask any questions, with an experienced native English teacher. And all this without leaving your home or place of work!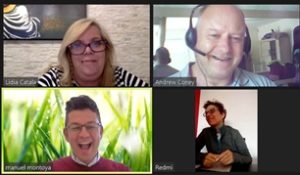 CLICK HERE FOR YOUR LEVEL TEST!
Then, simply follow the 3-step process for easy learning. Click on the link for your course, and… 
1 Listen to the vocabulary and language explanations.
2 Do the activities and online quizzes!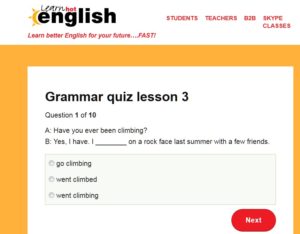 3 Use the language in writing and speaking activities with a native English teacher!
So, if you want to…
…make real progress!
…improve all areas of your English!
…move up a level!
Get this course!
Watch Andy explain how the Complete English Course works!
By the way, we can only have 500 students at any one time, so there are limited places available! Don't miss out!
"I really enjoy this course. I started on the Mid-Level and now I'm on the High-Level and I feel that I'm learning a lot. The quizzes are good because you can check what you have learnt. Also, the videos are great – quite funny too! I really feel like I'm progressing with this course."
Amir, from Dubai
Within each course there are 15 lessons; and each of the 15 lessons in every course comes with the following sections, with quizzes to test each of these sections:
Vocabulary for the Reading activity
Reading activity
Vocabulary for the listening activity
Listening activity
Grammar
Vocabulary for the video
Video activity
Speaking & writing*
Lesson test
Key features!
Interactive quizzes
Combine the course with a video-phone teacher.
Learn through our interactive and communicative method.
Complete the course anytime, anywhere – it's all online!
Choose your times for a video class with a native English teacher.
Practise what you've learnt with a native teacher.
Perfect as exam preparation for Cambridge First, Advanced, Proficiency, or IELTS.
Fun learning with videos and listening files.
Real progress monitored through our tracking system.
You learn words by hearing and seeing them in example sentences. This is the best way to learn new language!
*Speaking & writing! The speaking section covers the language, vocabulary and grammar from each lesson. You can do it with a video-phone-teacher (our recommendation), or alone through self-study.
TEACHERS! Don't miss out! This course is also perfect for giving online classes, or for giving to your students so they can make real progress, and practice English outside class!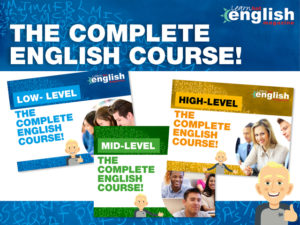 Go back to top