I'm Andy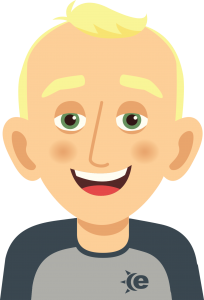 your Online English teacher, together with Leigh above and my team, I am going to help you improve your English!. I've got a secret to share with you about the best way to learn English online. I've seen what happens to many students – they start learning English, but then stop because they aren't motivated.
This is why I decided to create materials that are interesting, practical and fun so you'll enjoy learning. And it's easy to learn something when you're having a good time.
Why Learn English online with me and my team?
Interesting, fun materials will keep you motivated – Go see sample
Step by step, Structured lessons make learning English Simple – Go see sample
Dynamic Video and audio lessons bring the English alive – Go see sample
Check your progress with regular exercises and quizzes – Go see sample
English for every need: Travel, Business, Fun – Go see samples
– Click here to see some more samples of our materials!
– Find out more about me, Andy!
– Free gift here for Teachers!
– Click here to find out How to get started
Do you receive English classes in your company? Learn Hot English students get all of our fantastic materials within structured language courses along with a dynamic, native English teacher. Why not ask us for a quote for online language classes today? Available worldwide! Contact business@learnhotenglish.com or call 0034 91421 7886
See how our eBooks and courses can improve your English
Scroll down to see what some of our students say about us and our materials!
What our students are saying!
But don't just take our word for it, here's what some of our students say about us!
"I do a lot of business in English, and the Learn Hot English

Business English

books and courses really helped me speak and understand what people are saying. You learn a lot and they teach it well, and it's easy to progress. I think it is better than going to an academy! There are lots of listening so I can improve with my listening skills. The prices are good, and it is well organised."
"Learn Hot English materials are great for improve your speaking and listening. And they explain it very clearly. They use a lot of conversations. I bought the

Practise English Conversations

book and it really helped to improve my speaking and listening skills. The conversations are great as you learn language for speaking. The audios and videos are short and easy to understand. This helps me listen to English."
"Learn Hot English have really helpful and fun things for students. The content is really interesting. They use a lot of listening and speaking activities so it's really practical. If you want to practise, there are speaking activities, or you can contact them with any questions. I got a subscription to

Learn Hot English magazine

. There are a lot of up-to-date articles and interesting things to read, and lots of accents on the audio files that make it really interesting. I would definitely recommend Learn Hot English to English learners. I can understand and speak much better than before."
"

Learn Hot English materials

are fantastic. Our English teachers at Moving On use their materials all the time to give dynamic classes, and the students love them. We have been collaborating with Learn Hot English for a number of years and during that time they have shown they know how to create fun and above all really useful materials for students who are serious about improving their English. I would recommend anyone looking to progress quickly with their English to try them out!"