Great news!
The latest issue of Hot English (206) is out now!
Learn over 1,000 useful words and expressions and improve your listening skills with Learn Hot English! This month we're looking at 12 useful expression to improve your spoken English. Plus, 15 words for the coffee shop, 10 useful words for talking about the computer, idioms, phrasal verbs… plus: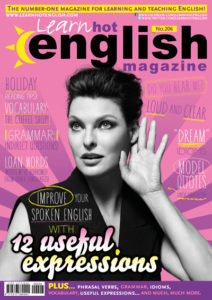 Jokes – jokes in English.
Work – dangerous jobs.
Grammar – indirect questions.
Culture – the British.
Psychology – dreams.
Language – how to improve your English.
Literature – holiday reading.
Celebrities – Megan Fox.
Cuisine – British food.
Strange news – fake deaths.
Food – summer salads.
Internet – Trip Advisor.
Vocabulary – loan words.
AND LOTS, LOTS MORE!
By reading and listening to all this great content, you'll improve your English reading and listening skills and learn up to 1,000 useful words or expressions. Plus, you'll get a better job and pass English-language exams more easily. Guaranteed!