Translating Services – Do you need a top-quality translation?
Learn Hot English has been over 20 years' experience offering Translating services. Learn Hot English can translate your documents quickly, efficiently and to the highest standards!
With a large group of experienced and professional translators, and a team of in-house writers, translators and editors, coupled with a professional approach, Learn Hot English can deal with translations from a wide range of industries and text types, and have extensive experience in translating educational books, or carrying out translations in conjunction with layout in design programs such as InDesign.
All our translations will communicate the key messages in clear, easy-to-understand, Standard English.

Recommendations
"I've known and worked with Andy and his editorial staff [at Hot English] for several years now and it's always been a positive experience."
Janet Wilson Smith (Director of Bilingual Publications at OUP España)
"We've been working with Hot English for the last 11 years, and this collaboration has always met our expectations in terms of quality, reliability and professionalism."
Enora Levaguerese (Marketing director, Richmond Publishing)
"Andy and his agency consistently produce material of the highest quality, and work to strict timetables, offering a professional, quality service."
Vicki Caballero Anderson (Director, Proyectos Especiales at Grupo SM)
Contact
Do you need a translation? For a FREE quote, contact us NOW!
business@learnhotenglish.com
(00 34) 91 543 3573
Prices*
Standard
9.5 cents per source word • €35 minimum fee
For general documents, basic texts, CVs, e-mails, letters…
Professional
12.5 cents per source word • €60 minimum fee
For urgent and/or specific-language translations: legal, medical, insurance, financial…
Premium**
15 cents per source word • €120 minimum fee
For marketing and advertising material, books, texts for publication…
Text revision
€40 per hour
For text revisions of approximately 1,000 words that require revision in the same language. For example: a text in English that requires editing or proofreading in English.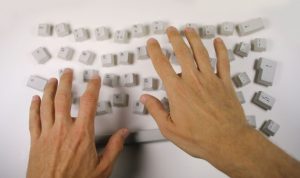 Proofreading
€3 to €6 per A4 side • €30 minimum fee
A "side" refers to one side of an A4 page with approximately 500 words. The final price will depend on the degree of editing required.
Need a quote?
For a comprehensive free quote, please include the following information:
Industry (marketing, advertising, IT, general, legal, insurance, medical…)
Target audience (potential clients, students, web visitors, paying customers, non-paying customers, work colleagues…)
Type of text (website, book, press release, letter, formal e-mail, report, quote, business proposal, legal document, manual…)
Size (number of pages, words, documents…)
Delivery time required (24 hours, two days, one week, one month…)
Plus, any other information you consider relevant for this project.
Please attach the text to translate (preferably as a Word document or PDF) or a sample of it. Then, send this information to business@learnhotenglish.com

*Prices
Every job will be assessed independently and may be subject to additional charges. Factors affecting the final price include: delivery date, complexity, number of revisions, file formats submitted… Prices quoted do not include VAT.
**Premium
Translation of marketing and advertising material often requires substantial work on the text to ensure that the message reads well in the target language. Texts for publication require additional levels of editing and checking. Our Premium Translation service includes:
A project manager (for large projects).
Initial sample translations for client approval.
Revisions by an experienced editor.
Recommendations on any proofreading required.
During the translating process, the text is monitored and assessed by the project manager, who also consults the client on any complex issues. A glossary is created for future translations with the client.
Contact
Do you need a quote or any other information? Contact us NOW!
business@learnhotenglish.com
(00 34) 91 543 3573
Complete confidentiality
We guarantee that all documents will be treated with the utmost respect, and that all draft copies will be destroyed, and originals returned on request. In addition, all customer information will be kept absolutely confidential. Information relating to the translation, the nature of the translation and any information the customer transmits to us will be treated with complete confidentiality. No information will be divulged without previous written authorisation from the client.