Description
The complete Learn Hot English method
If you are really serious about improving your English then this is the option for you!
Save a HUGE 101 euros off our quoted website prices when you choose this option.
This is a great investment in your English learning future, if you study just 15 minutes per day with these fantastic materials you will see an important improvement in your English, in no time at all.
NOTE – If you have already purchased some materials from us, but would like to take advantage of the Complete method offer, then please note, we can discount off the final price, what you have already paid, to organise you just need to email us directly at business@learnhotenglish.com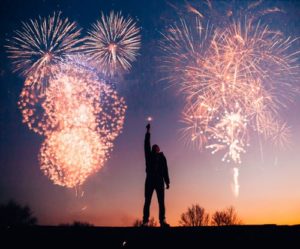 When you sign up the Complete Learn Hot English method you get  instant digital and permanent access to all of the following products;
Practice English conversations
1,000 words & expressions in 30 typical English conversational situations + 60 minutes audio

You'll learn how to introduce yourself, make small talk and tell stories, among many other things. In fact, this book has everything you need to improve your English speaking so you can feel comfortable in English conversation!
2 -3 Phrasal verbs eBook 1 & Phrasal verbs eBook 2
Learn over 500 phrasal verbs in context – with 120 minutes of audios

You'll learn Phrasal verbs that relate to meetings, money, the telephone…All of the phrasal verbs you'll learn form part of the same subject area. This makes it so much easier for you to remember them to use in the future.

See free sample book 2
3-4 Idioms 1 & 2
Learn over 500 idioms in context with 120 minutes of audios

If you feel your English level is too low when it comes to using and understanding idioms, then this is book is perfect for you!
5 English Unlocked
Access to 5 different levels of this fantastic book

Beginners/Pre Intermediate/Intermediate/Upper Intermediate/Advanced

In each English Unlocked book, you'll improve your English vocabulary and grammar with over 1,000 useful words and expressions. Each book comes with over 2 hours of audio and video material, with lots of different accents.

The English Unlocked eBook will also show you how native English speakers use the language, and help you improve your pronunciation and listening skills.

Free samples for each book here – Beginners/Pre Intermediate/Intermediate/Upper Intermediate/Advanced

6-7 Business book 1 and Business book 2 – 

Over 40 up to date business topics and 120 minutes of audios
To help you learn Business English, we've divided the book into sections so you can find the right topic quickly and easily: how to describe graphs, talk about money, discuss finance, analyse trends, talk about business leaders…
8 Learn Hot English magazine
The Number 1 magazine for learning English – Instant access to 12 magazines, Almost 600 pages and 12 hours of audio

Learn Hot English magazine is motivating and fun. You'll be able to learn English quickly and enjoy it at the same time. Learn Hot English teaches you the English native speakers use in everyday situations! You know, the English slang and colloquial expressions that can be so hard to understand
9 Travel English
This fantastic book comes with over 1,000 words & expressions for travelling abroad plus 60 minutes of audios

In order to help you speak English fluently, we've divided the book into over 30 sections so you can find the right topic quickly and easily: in the pub, at the doctor's, renting a car…

On top of that, Travel English has lots of conversations so you can hear how native English speakers use the language. You can also hear how to pronounce the words correctly.
10-11 Phrasal verbs video course 1 and Phrasal verbs video course 2
Learn 500 English Phrasal Verbs video course, you get your 46 videos on phrasal verbs grouped into topics.

Simply watch the videos and do the oral exercises with your own personal online teacher! There's no need for any writing – just listen, respond and learn!
Our online English learning platform will really help you improve your option. This option gives you so much quality material to learn from, working your way through these fantastic resources, you will see your English improve a lot!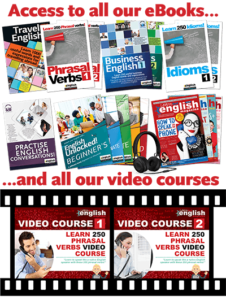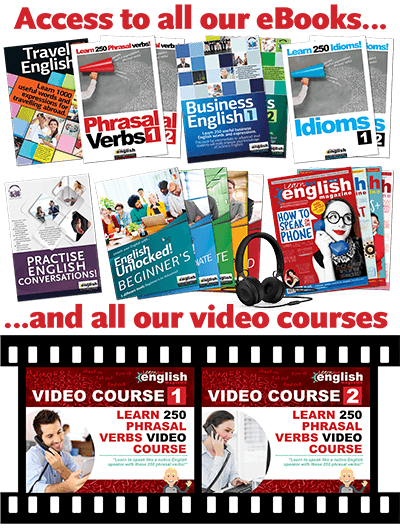 Please see the Description tab to view free samples for each product
Go back to top