Description

When you sign up for all our Teaching products you get a 35% discount and  instant digital and permanent access to all of the following products! (Digital only)
SAVE 58€
So you will get;
Fantastic English teaching book series – 4 levels ALL with teachers notes
This is where our book series English Unlocked can really help you by offering you a clear structure per level ensuring you cover all the necessary grammar, vocabulary and expressions.
See free sample here: Sample English Unolck Teachers
Language Drills! –Increase your students' speaking fluency with our Language Drills!
Language drills are great for increasing your students' speaking fluency. And with just 5 minutes per class, you'll make the lesson more dynamic and really help with your students' speaking accuracy
See free sample here: Sample Drills Teachers
Ready-to-go photocopiable lessons for busy teachers.
the PACK comes in 5 levels: Pre Intermediate, Intermediate, Upper Intermediate, Advanced and Proficiency. With the PACK, your students will use lots of useful practical language in the games, role plays and speaking activities, among many other things.
See sample here: Pack Teachers Sample
Teaching Business English lessons? the best materials for busy teachers!
Our Business Skills book for teachers is perfect for your intermediate and above students. This material has been tried and tested in company class settings with multinationals with great results. And the Teachers notes will ensure you get the most from each section.
See sample here: Sample Business Skills
Looking for some fun activities to do in your English classes?
The Learn Hot English Games Pack will help English teachers in middle school and high schools, as well as teachers in academies, company classes and universities.
If you're looking for warmers, games and fun activities for beginners, business or even advanced classes, our Games Pack will ensure your classes are successful.
See sample here: Sample Games Pack
So what are you waiting for? get the 35% discount and save 58€ now
"I am a teacher make myself easier now button we use on the others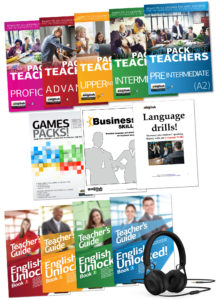 Go back to top