The latest issue of Learn Hot English magazine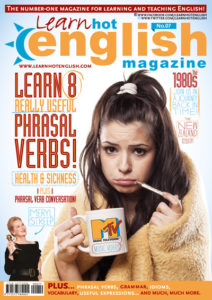 Great news! The latest issue of Hot English (07) is out now! Learn over 1,000 useful words and expressions and improve your listening skills with Learn Hot English! This month we're looking at 8 really useful phrasal verbs for talking about health and sickness. Plus, 10 words for talking about health and safety, 8 useful expressions for talking about swimming, idioms, phrasal verbs… plus:
Jokes – jokes in English.
Functional language – how to interrupt someone.
Accents – New Zealand English.
Psychology – doodles.
Language – phrasal verb particles.
Quiz time – general knowledge.
Politics – Margaret Thatcher.
History – the 1980s.
Celebrities – Meryl Streep.
Language – alliteration.
Technology & music – music videos.
Slang – Dictionary of Slang
Socialising – making small talk.
Body language – hand gestures part II.
AND LOTS, LOTS MORE!
By reading and listening to all this great content, you'll improve your English reading and listening skills and learn up to 1,000 useful words or expressions. Plus, you'll get a better job and pass English-language exams more easily. Guaranteed!