The latest issue of Learn Hot English magazine
Great news! The latest issue of Hot English (10) is out now! Learn over 1,000 useful words and expressions and improve your listening skills with Learn Hot English! This month we're looking at 10 useful idioms! Plus, 20 words and expressions for talking about ships and boats, slang terms, idioms, phrasal verbs… plus: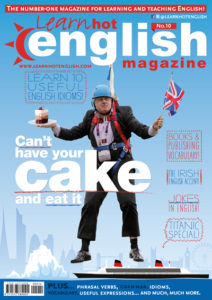 Jokes – jokes in English.
Functional language – how to clarify something.
Crime – the Swissport Robbery.
Media – live TV.
History – the Titanic.
Archaeology – ship wrecks.
Hollywood – Kate Winslet.
Literature – Irish tales.
Cuisine – a Cuban sandwich.
Language – new words!
Accents – Irish English.
Phrasal verbs – politics.
Vocabulary – crime & punishment.
Quirky news – unusual stories.
Slang – Dictionary of Slang
AND LOTS, LOTS MORE!
By reading and listening to all this great content, you'll improve your English reading and listening skills and learn up to 1,000 useful words or expressions. Plus, you'll get a better job and pass English-language exams more easily. Guaranteed!