Learn business English expressions – 7 expressions for meetings!
When was the last time you were in a meeting? Whether it's in person or over the internet, it's important to participate in meetings. But it isn't always easy to know what to say, or how to say it. So, just to help, in this lesson, you'll learn business English with 7 expressions for meetings!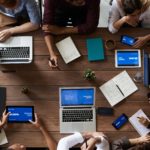 CLICK HERE TO LISTEN TO THE WORDS AND EXPRESSIONS FROM THIS UNIT SO YOU CAN IMPROVE YOUR PRONUNCIATION AND LISTENING SKILLS! 
To get to the point
Say what you want to say; to be direct.
A: "Well, erm, I'm not quite sure how to say this, erm, I…"
B: "Come on! Get to the point!"
(To put it) in a nutshell
To summarize something.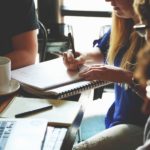 "So, in a nutshell, the actor was struggling for years, finally became successful and eventually won a lot of awards."
To get the ball rolling
To do something that helps start an activity.
"OK. Thanks for coming to the meeting. I think I'll get the ball rolling by asking you all to write down six ideas for the new office."
To be long-winded
To say something in an indirect way using lots of unnecessary words.
"Marshall took 20 minutes to say something that could've been said in two minutes. He's so longwinded."
To speak your mind
To say exactly what you think. "It's not always good to speak your mind – it might be upsetting to others."
A talking-point
An interesting subject for debate or discussion.
"That scandal involving MPs' expenses is going to be a major talking-point on all the news channels."
To get a word in edgeways
Not to have the opportunity to talk because someone else is talking too much.
"Mandy dominated the meeting, and no one could get a word in edgeways."