U.S. culture: learn about fast food!
When was the last time you went to a fast food restaurant What did you have there? Was it an American fast food chain? American fast food is popular all over the world. But what type of fast food is most popular in the US? In this short video lesson on US culture, you'll learn about fast food in America. You'll also learn some useful words for talking about this topic. After watching the video, try our little quiz below to see how much you can remember.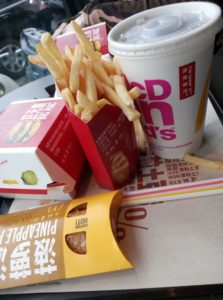 Happy learning!
Level: Pre-Intermediate to Upper Intermediate (A2-B2)
Video: YES!
CLICK HERE BELOW TO WATCH THE VIDEO
Vocabulary
Here are some useful words and expressions that appear in the video.
Fast food
Food that is cooked and served quickly such as hamburgers, fried chicken…: "We went to a fast-food restaurant for lunch."
A restaurant chain
A group of restaurants, hotels, shops, etc. that are controlled by the same organization: "The fast-food chain has over 16 restaurants in the city."
A staple food / staples
A basic food that is important in people's everyday lives (rice, pasta, bread, potatoes…): "Prices of staple food items such as bread and milk have been going down."
Access to
If you have "access to" something, you can use, have or buy it easily: "Many people here don't have access to clean water."
French fries
Thin, rectangular-shaped pieces of fried potato ("chips" in British English): "We had some French fries with our burgers."
A chicken nugget
A small piece of chicken that is covered in breadcrumbs and fried: "I love chicken nuggets with barbecue sauce."
Soda
A type of sweet, fizzy drink (with bubbles). It's non-alcoholic. A "soft drink" in British English: "Do you want any ice with your soda?"
To encourage
If you "encourage" someone to do something, you try to persuade or motivate them do it, often because it's good for them: "They encouraged us to do more sport."
A healthy lifestyle
If you lead a "healthy lifestyle", you eat well and do lots of exercise: "I feel so much better now that I'm leading a healthy lifestyle."
Once in a while
If something happens "once in a while", it happens sometimes, but not very often: "We come to this restaurant every once in a while."
Indulge in
If you "indulge in" something you really like (chocolate, champagne…), you allow yourself to have that thing, even though it isn't really good for you: "I often indulge in a bit of chocolate at the weekend."
Video quiz  
You're going to watch a video with someone talking about fast food in the US. Watch it once and answer the questions below. Remember, the first time, you should watch the video from start to finish without stopping and try to understand as much as possible. After that, watch it again, but this time you can pause or stop it wherever you like. [answers below]
In terms of price, why does the speaker say that fast food restaurants are popular in America?

What three staple food items from fast food restaurants does the speaker mention?

Why have some food chains created healthier alternatives?

What does the speaker say that most Americans can agree on?
Speaking
Now talk about this topic with a friend or classmate. Make notes and try to use as much of the new language as you can.
Video script
Hi, I'm Zoe, and I'm a college student from Pennsylvania, here to talk to you about fast
food in America. Throughout the country, it's hard to find a place that does not have fast food restaurants. They're so popular in America because they're cheap and provide easily accessible access to food.
Typical Food
Some of the staple foods in fast food restaurants are hamburgers, French fries, chicken nuggets and soda. Some of the most popular American fast food restaurants include Wendy's, McDonald's, Subway and many more.
Growing healthy good industries
Although these foods are easily accessible and cheap, they are not always the healthiest, so there's been an attempt to create more vegan or alternative healthy fast food restaurants to encourage a healthy lifestyle.
Americanized food!
There's also Americanized versions of cultural foods, embodied in fast food restaurants, as can be seen with Panda Express (based on Chinese food) or Taco Bell (inspired by Mexican cuisine). Overall, even if you don't indulge in fast food every day, most Americans can agree that it's fun to indulge every once and a while in American fast food.
 BUY 24 Learn Hot English magazines and not only will your English dramatically improve but you will also get a great price just 2.83€ per magazine!!
Answers
Video quiz
In terms of price, why does the speaker say that fast food restaurants are popular in America? Because they're cheap

What three staple food items from fast food restaurants does the speaker mention? Hamburgers, French fries, chicken nuggets

Why have some food chains created healthier alternatives? To encourage people to lead a healthy lifestyle

What does the speaker say that most Americans can agree on? That it's fun to indulge in fast food once in a while